Your Pipeline Could Always Be Bigger
Here are some reasons that even brilliant sales and marketing teams feel so overworked:
For every 100 leads your team passes to sales, only 5 are ready to buy.
50% of sales reps quit on a lead after the first call; yet, it takes 21 touches to turn a lead into a forecasted opportunity.
65% of in-house marketing automation projects fail. Creatives can't implement. Analyticals can't create.
Are your sales and marketing teams spending too much time chasing unqualified leads instead of closing new deals? What would doubling the number of sales-ready leads do for your pipeline, revenue and profitability?
A solid marketing automation solution can generate 75%-150% more qualified opportunities in your pipeline. We're different because our solution is completely turnkey. We implement, create, maintain and analyze your lead nurturing. We also integrate to your other systems, both online and offline: websites, CRM systems, events, mail campaigns, telephone and more.

Revenue + Focus – Frustration = Happiness
How much time does your sales force spend working with leads that aren't ready to buy?  On average, sales reps spend 25% of their time cold calling, nurturing or following up on leads that won't enter your pipeline. This activity could be costing your organization $3,000 to $10,000 per rep per month. Add in the opportunity cost of not being able to focus on closing their current deals and you could be losing even more. Ouch.
Worse, some reps ignore these leads entirely. That means you've spent your lead generation costs only to have them sit in your CRM system waiting for a competitor down the road. It's not your reps' fault. We all have too many things we're trying to accomplish. Did you know that:
Only 5% of leads passed are qualified and ready to buy?
Most sales reps only have time to make one follow up phone call for each lead, yet the average lead nurturing cycle can take 21 touches?
65% of all marketing automation projects fail because of lack of expertise?
64% of Sales and Marketing executives were dissatisfied with the results derived from their nurturing programs?
79% of leads passed are not only unqualified, but they will never enter a forecast stage?
Teams with automated lead nurturing and marketing integration can focus on what they are passionate about: driving new revenue. You will increase your engagement, increase your pipeline and decrease your frustrations. Everyone wins. Everyone is happy.


Not Just Technology. Not Just Creative.
Fortunately there is an answer: simple, affordable lead nurturing automation. Lead nurturing isn't easy (remember, 65% of internal marketing automation programs fail). The problem is that creative teams are not focused enough on sales needs and operations to build an automation system. The analytical types who can build an automation system are typically not creative enough to build compelling content based on lead generation psychology and best practices.
That's where the Boston Turner Group's lead nurturing experts come in.
Our team knows how to collaborate with your team to bring you the best opportunities and educate those opportunities who aren't ready to buy. By working with us, you can continue to focus on business critical and revenue generating activities and let us focus on building a steady pipeline. We focus on a step-by-step, simple, cost-effective and proven approach to marketing automation that is focused on your success.
Our solution includes:
Discovery calls and analysis of your current situation
Marketing automation technology
Consulting and best practices
Analysis, curation and improvement of your current content
Content creation customized to your audience and needs–emails, articles, white papers, blog posts, etc.
Emails and landing pages
Optional automated voicemail campaigns using your reps own voices
Offline tactics like events, mail, phone and more are integrated
Lead nurturing campaign execution–your team doesn't have to become experts we work with them
Scoring strategy and scoring rules setup to maximize your sales reps' time
CRM rules setup and integration strategy
List management
Lead segmentation strategies and analysis
Lead process best practices and implementation
Weekly and monthly reporting
Campaign results analysis
Weekly status calls with your team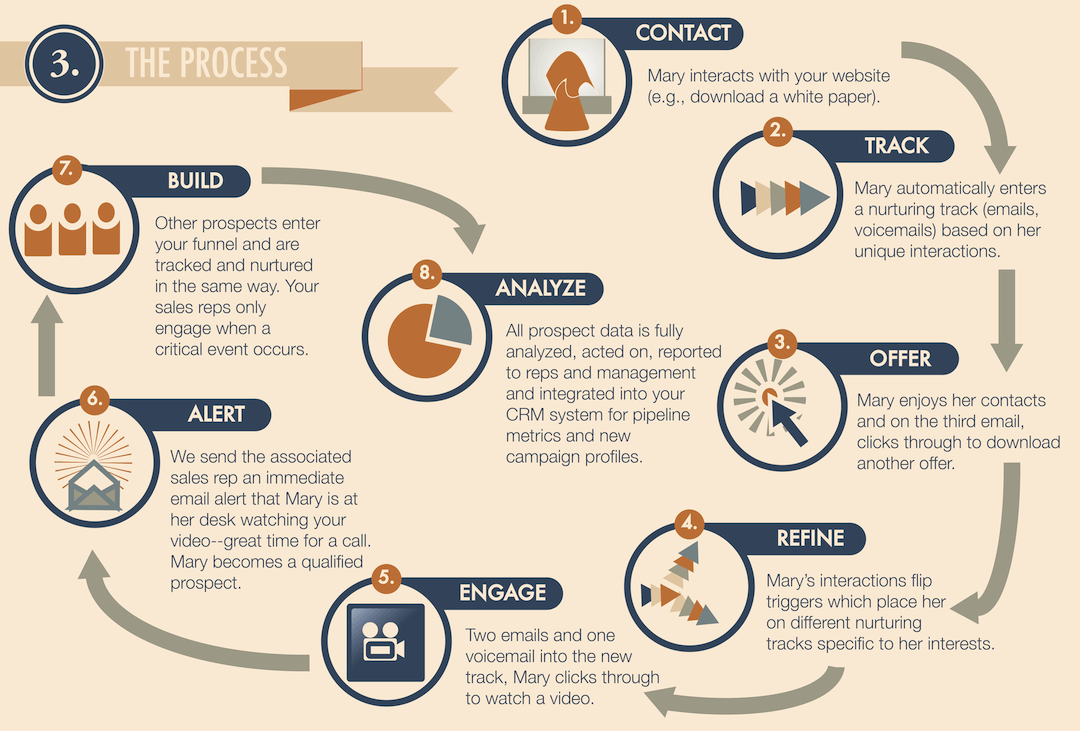 We Know the Right Way (And We're Willing To Share)
Our team will work with you to design a customized lead nurturing process, including definitions, tracking, alerting rules, scoring, measurement, content tracks, analysis and more.
Here is an example of how the system could work for you:
Mary is a suspect who attended a trade show and learned about your company. She comes to one of your landing pages on your website and downloads a white paper.
Our system automatically places Mary on a nurturing track with emails and voicemails that fit her unique interactions and interests. You sales rep's voice will be placed in her voicemail box and a series of emails from your rep will be sent to Mary, yet your rep won't have to do anything until Mary gives us a clear buying signal.
Mary reads the emails and listens to the voicemails over the next several weeks. She hears about one of the webinars you're offering and clicks through to register.
Now we know a little bit more about Mary's interests because she has interacted with three different campaigns: a trade show landing page, a white paper and a webinar offer. We automatically put her on a new track based on these interactions and based on the rules that we established for prospect behavior. Again, your rep has yet to lift a finger.
Now that Mary is on a refined nurturing track, she feels like your marketing and offering is specifically designed for her. She clicks through an email to watch a video.
We determined in our initial strategy that your rep in charge of Mary's account should get an email alert whenever a prospect watches a video. After all, we know she is at her computer so this would be a great time for your rep to make a personalized call and convert her to a qualified prospect.
Meanwhile, many other visitors to your site are entering the same process. You've invested a lot in building a great website and getting visitors through pay-per-click, search engine optimization and other awareness efforts–isn't it time to invest in turning those visitors into leads?
While you're a client of the Boston Turner Group, we will have weekly and monthly status update and strategy calls with your team to continue to refine and improve your nurturing processes. In addition, our system can integrate into your CRM system for total visibility.
Pull the Oars in the Same Direction
Senior-level sales and marketing executives are required to bring in more revenue every year with smaller budgets, fewer resources, quarterly deadlines and increased competition.
Where can you find opportunities for growth amidst these challenges? By integrating all of your marketing expenditures and automating your processes, you will drive much more revenue to your bottom line without increasing your expenses.
CRM
Our lead nurturing system integrates to your CRM system making it easy to coordinate your sales and marketing efforts.
Our technology integrates to SalesForce, Microsoft Dynamics CRM, SugarCRM and many other leading systems.
Do you operate your own CRM system? No problem, we can build out to your specifications.
We automatically update your CRM system bidirectionally, passing information to and from your system to ours.
Leads in our nurturing system will get promoted in your CRM system.
Integration provides better visibility and ROI tracking.
Website
Your website is already generating a lot of visitors, but how do you convert those visitors into prospects? When you add in our integrated solution, your website becomes the center of a fully-automated sales and marketing machine.
Our code will integrate directly into your current website content management system. Our team will build landing pages and intelligent forms for you, or we will create them in collaboration with your creative team. We can even create landing pages for you without the help of your webmaster or IT team.
Email
The email tracks we create will be targeted to your different prospects based on their behavior and their interests. The emails will be sent on behalf of your sales reps so your prospects will be completely unaware of your use of automation. They'll simply think that you have fun, proactively engaged reps.
Thanks to our automation, your reps can focus on closing the more important deals in their pipeline rather than spending time writing emails and following up with cold and warm prospects.
Our email tracks are a great way to keep your prospects interested over a period of time so that you and your sales reps stay top of mind until they are ready to buy.
Message Sweeping
Our message sweeping program is simple. A sales rep or a top executive records a single message, which is then delivered to the voicemail boxes of hundreds, or even thousands, of prospects in a matter of hours. Sales reps can easily cover their entire territory, or even expand their territory, with message sweeping. And because they're making better use of their time, they can generate more sales, service more customers, and earn more revenue.
With our lead nurturing solution, even your message sweeping is automated. We can accept your current lists and augment them with your new leads so that prospects are automatically receiving calls from your reps.
Full Campaign Integration–Even with Offline Tactics
Most sales and marketing teams don't have the time, resources or expertise in their teams to fully integrate all of the marketing campaigns into an automated solution. That's where the Boston Turner Groups comes in. We are technology, creative and lead nurturing professionals. We'll create a strategy and solution that uniquely fits your market. Beyond that, we will continue to execute and analyze your campaigns–even offline campaigns like:
Direct mail, postcards, catalogs and more
Events, trade shows, road shows, user groups and more
Content marketing such as case studies, white papers and webinars
Social media tools like Twitter, LinkedIn and others
Video, Blogs and Podcasts
Automate Your Entire Pipeline For the Cost Of One Telemarketer
Our marketing automation packages cost less than hiring a new telemarketer and much less than the $3,000 to $10,000 of time and opportunity costs your reps are currently spending on following up on bad leads.
This package is a turnkey solution for companies who need a fast and inexpensive lead nurturing program.
Consulting and best practices
Our automation technology
Five (5) emails and landing pages
Lead and scoring rules
Weekly and monthly reporting
This package allows you to integrate your offline and online campaigns, integrate to your CRM system and includes access to our full suite of nurturing options.
Everything in our Dynamo package, plus,
CRM system integration
Eight (8) emails and landing pages
Additional content creation (blogs, emails and more)
Ongoing segmentation and scoring assistance
Message Sweeping capability (additional cost per message)
Ability to integrate offline campaigns (events, postcards and more)
Lead nurturing by actual rocket surgeons.
Everything in The Integrator package, plus,
Full campaign management by a virtual CMO
Twelve (12) emails and landing pages
Content research and curation for your blog and more
Message Sweeping at reduced rates (additional cost per message)
Reduced rates on marketing services related to lead nurturing (e.g., postcard campaigns, coaching of your staff, video and more)
Weekly and Monthly status calls and ongoing consulting