How We Help You Achieve Enterprise Velocity
Competitive sophistication and eroding barriers to entry in the marketplace underscore the  need for sustained growth and speed to market in your business. Yet, surprisingly few firms  have a clear and well-internalized agenda for how to meet these core strategic demands.
An Enterprise Velocity agenda is more than the latest marketing fad. It's a carefully conceived strategic plan created to maximize the value of your business to create, maintain and survive growth. Many of our clients are entrepreneurs struggling to define their strategic plans and brand identities. As a successful entrepreneurial founder, you are required to be tactically efficient and an expert in your industry, but no one would expect you to be an expert in strategic management or executive leadership. That is where The Boston Turner Group fits in.
We often describe Enterprise Velocity using the metaphor of a busy freeway. If your competitors are not already moving at speed, they will be entering on the next ramp. Carrying the metaphor further, Enterprise Velocity is about getting on the right on-ramps, choosing the right lanes, getting up to top speed and not running out of gas along the way.
Our Modes
We offer five modes of consulting to our clients depending at what stage they are at in their lifecycle and customized to their particular marketing and strategic needs.
Diagnosis: You have an great team in place but you need a systematic method of analyzing your business and strategies to identify areas of improvement. Let us spend a day or a week with your team to give you a fresh outside look at all the aspects of your strategy.
Teaching: You know what to do and where to go, but your team needs to learn some new ideas and sharpen their saws. We can train your team to be better than ever with road-tested training programs, from 60-minute keynote speeches to custom-designed programs for your employees.
Coaching: A challenge of hyper growth is that your best team players are often not available to mentor your new hires. What difference would a well-coached, motivated work-force mean to your productivity? Even a 5% increase in productivity from your staff could add 100% or more to your bottom line results.
Facilitation: You have a winning strategy and a brilliant team, but sometimes getting a group of geniuses to row the oars in the same direction is a challenge. Let us come in to facilitate your team meetings, planning and strategy sessions so that your time with your top team can be even more productive.
Implementation: You need help actually putting your marketing programs in place. Perhaps your team is a little thin or you want an expert for a particular project. Hiring the Boston Turner Group is like hiring a virtual CMO.
Our Five Disciplines
The Enterprise Velocity Model is comprised of five disciplines:
Ideals
Velocity
Measurement
Cadence
Creativity
We can apply our experience in these five disciplines through any of our consulting modes. In doing so, you gain a unique lens with which to view your business based on your particular circumstances.
Help Comes 5X5
Here are some examples of how we deploy our enterprise velocity disciplines across our five modes.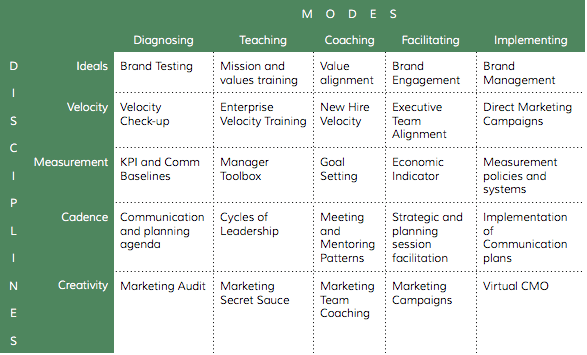 A Thought Leader on Enterprise Velocity
We help clients craft and execute winning Enterprise Velocity agendas. We harness thought leadership in five different areas to maximize and manage growth for our clients. Here are just a few examples:
Velocity Coaching: Now that you have the right people on the on-ramp, how do you get them in the right lane and up to top speed faster than your competitors' teams? On average, it costs an organization two-and-a-half times an employee's salary to replace a worker who doesn't work out, including recruitment, training, severance costs and lost productivity, according to a survey of 444 organizations across the United States. Eleven percent of organizations surveyed reported it cost at least five times the employee's salary. A unique specialty of The Boston Turner Group is to guide your new hires and new managers through their first 90 days to reach Enterprise Velocity faster and with less risk.
Business Design and Strategic Management: Does your business model provide enough differentiation to thrive, not just survive? Have you selected the right mission, values and goals to drive growth from within your organization or are you getting by with personal heroics?
Sales Channel and Marketing Strategies: Are you leveraging all available channels and do your strategic partners consent to your vision. Are your sales people as efficient as you need them to be to compete? Can everyone in your organization describe your brand identity in one memorable sentence? Do they live, promote and defend your brand contract? Are you budgeting the right amount on the right tactics in your marketing plan?
Brand Management and Public Relations: Are you consistently measuring your brand equity to grow your position in the marketplace or are you suffering from lack of insight and brand erosion? Do you have a unique position in the marketplace? Are your employees delivering a consistent, integrated customer experience? Are you spending too much money on the wrong brands, the wrong messages and the wrong positions?
Executive Team and Communications Coaching: Every team has room for improvement. We work directly with leaders who are committed to alignment and communication. The Boston Turner approach  addresses your top issues in the context of building a strong team. We help you avoid politics and confusion, make higher quality decisions and retain top employees. We also conduct communications audits as part of our Enterprise Velocity practice.