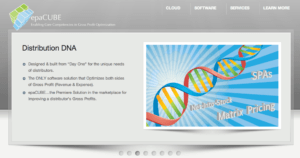 I'll be posting more about the fun projects we've been doing for epaCUBE soon, but I just wanted to write a quick note of congratulations to George, Randy, Dan, Geoff and team on the successful release of their new website.
These guys are a lot of fun and know more about pricing strategy and gross margin optimization than anyone you'll ever meet.
Check the site out and let me know what you think.
We have some fun stuff we did for epaCUBE for the TUG Annual Conference this week as well. Stay tuned.
Related posts: