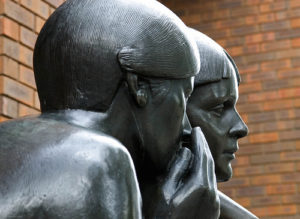 Are you intimate with your prospects?
Once you've segmented your data, scrubbed it and grouped your prospects in your database, your work is not even close to being done. The next step is to personalize your messages to add relevance and engagement.
This is a critical step where a lot of marketing automation projects fail. The tools are great, the data is great, but now you need to test your messages, test your response rates and compare your online and offline messages and activities. When I bring this up to people, the response I usually get is, "that's great Matt, but who has the time?"
But testing teaches you a lot. Marketers live in a laboratory. We think we know what the right message is, but at best we're just making educated guesses. Sales people have the opposite problem. They're dealing with real data on the street, but their focus is on whatever feedback they're getting from their current deals. So sales reps are guilty of changing the message with every deal and making judgements about messaging based on a small pool of data.
Testing allows you to see who is responding to different types of messages and communication channels and also shows you specifically what links and web pages they are clicking and viewing. This information then allows smart marketers to customize their outbound campaigns that aligns with the topics and pain points that have been successful with other prospects.
Psychologically speaking, when you use relevant information in your emails, even if it's just their right name and some basic segmentation data, you are implying a relationship. The prospect feels like they are already in a relationship with another person, not a machine. And studies show that those prospects are nearly twice as likely to accept a sale call from a rep.
The Aberdeen Group recently published a study called "Email Marketing: Get Personal With Your Customer," and found out that personalization and relevancy increased click through rates by 14%, open rates by 6%, and conversion rates by 11%.
Where Do You Begin?
The reason a lot of companies don't personalize their messages is because it takes work. So let me give you three ways you can quickly start down the path to prospect intimacy.
1. A/B Testing
First, start testing. Don't make it complicated. Do what is called in an A/B test. Take a single variable, like a subject line, a graphic, or other content and test two variations. Just one variable in two different sections. Let's say you have two-thousand names on your list. On the day before your main campaign launch, pull 200 names randomly out of the two-thousand. Then divide those 200 into two lists of 100 each. Each list of 100 gets a different subject line, let's say. Figure out which subject line gets more opens and use that subject line on launch day with the remaining 1800 names on your list.
This testing will obviously improve your response rates early on. But perhaps more importantly, your sales and marketing teams will start collecting insights into which topics are the most interesting to your prospects and which content is the most engaging. Your entire organization will learn to have better conversations.
2. Implement My Rule of 27 Touches
Next, you need to start applying my principle of 27 touches. You have to get your message out 27 times before your prospect can make up their mind about it. 27 touches.
Now, I know that most of you are thinking, "I don't have time for three touches, let alone twenty-seven." But if you want to increase your success all along your sales and marketing funnel, you need to create messages that match up with your prospect's key interests and pain points and then figure out what is the right media for those 27 touches. As a quick example, IT people are know for being more analytical and introverted (extroverted IT people: don't send me hate mail). They don't want a sales call, but they will read a 45 page white paper if you give it to them, then highlight it and summarize it in a slide deck. If instead you're selling to the VP of Sales or CMO, they may not read that 45 page white paper, but will take a call form you. They will especially love a two-minute animation that they can quickly post out to 500 other people. Different people need different media and different messages. Until you learn that, you'll continue to suffer low response rates.
3. Make a Content Plan and Calendar
The third to-do for you is to start making a serious content plan. And by that I don't mean just wake up one day a week or month and spew forth a few random blog posts and tweets. I mean making a map of all the different types of content that your prospects need to make a decision. What are the specific topics you've uncovered in your A/B testing that relate to each segment of your prospect base? Then what is the story you need to tell about those topics? Take it further because different people respond to different types of content. Some people like long-form content like eBooks, white papers, webinars and more. Some people, typically the intuitives, like quick hitting content like videos, animations and infographics. Some people are social animals and want social proof like case studies and interviews.
Your content is the way your prospects engage with your company long before a sales rep gets involved. You wouldn't send a sales rep out in a stained T-shirt for a demo and then proceed to do you demo in an industry that doesn't fit your prospect. But most companies wouldn't come close to putting that kind of effort into content. Your prospects expect you to have content that is focused on their issues and interests, their business role, their specific needs, their stage of the buying process, something that fits their particular industry and associations, they want to know about you, alternative approaches, can they trust you, are you authoritative? It used to be the job of your sales reps to deliver this information, but we know that process is inefficient and difficult to manage. Besides, with today's economy and the complexity of our products and solutions, buyers need more hand-holding and education than our reps can provide. Solid content combined with easy-to-use automation fills those gaps.
Photo credit: Andre Wallace's The Whisper, sited at the Central Library of Milton Keynes in the UK, photographed by Brian Smithson.
Related posts: