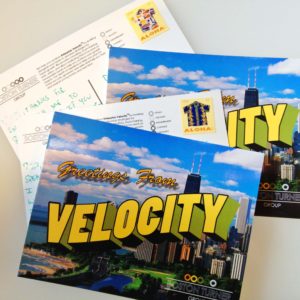 I do something that I think is a little unique with my clients and friends and I wanted to share that idea with all of you. It's simple, but old fashioned enough to stand out.
When I want to say "thank you," for any reason at all, I send a custom postcard. When would I send a postcard?
In place of a thank-you card
To say, "great to see you at lunch today."
When sending an idea for a new lead nurturing campaign
As a congratulatory note when a friend or client has a success
Hand-written and USPS delivered communication is too rare these days. By sending postcards, you can stand out a little from other partners who only send thank-yous and other notes through email.
In addition, I'm able to communicate a little bit of marketing along the way by including this blurb on the back:
We help you achieve Enterprise Velocity by working alongside your team to develop strategies for hyper-growth. We provide consulting, team training, web, video and direct marketing focused on measurable results to help you achieve your growth targets. Our depth of experience helps you plan for future success, generate new sales and help you train and support young teams and new hires.
I almost always get a thank-you call from the recipient when the card arrives. What other marketing tool can do that?
Related posts: