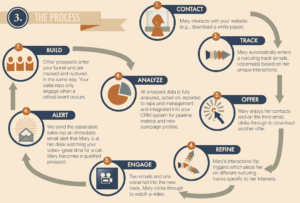 Wouldn't it be great if you had a push-button machine that could do the following:
Shorten sales cycles
Keep pipelines full
Focus your reps on deals instead of prospecting
Cut your marketing costs
Improve communication with your team, customers, partners and prospects
We think we have built that kind of machine. We call it "Nurturama."
Technology is playing a crucial role in aligning sales and marketing. An Aberdeen Group study called, "Lead Scoring and Prioritization: The Path to Higher Conversion," revealed that top performing organizations were two-times more likely than all other companies–ALL others–to leverage a lead management technology.
Integrating your sales, marketing, data and prospect behavior into one cohesive strategy is a key enabler for best-in-class companies because it delivers the right information to the right people at the right time:
Marketing teams know which campaigns are driving better deals
Sales teams know which prospects are the most likely to buy and when is the best time to engage them
Prospects get exactly the right information they need, so they reach a buying decision more rapidly
If you have 1 1/2 minutes right now, take a look at this video for a quick overview of how Nurturama, our pipeline-filling machine, works:
(If you like kazoo music, turn the sound on; otherwise, do what you have to do to prevent more kazoo music in your life.)
And don't forget to register for our live webinar, "Seven Ways to Close More Software Deals."
http://bostonturnergroup.com/nurturama-webinar/
We had so much interest we had to add a second date. I hope you'll join us before the seats fill up.
Related posts: