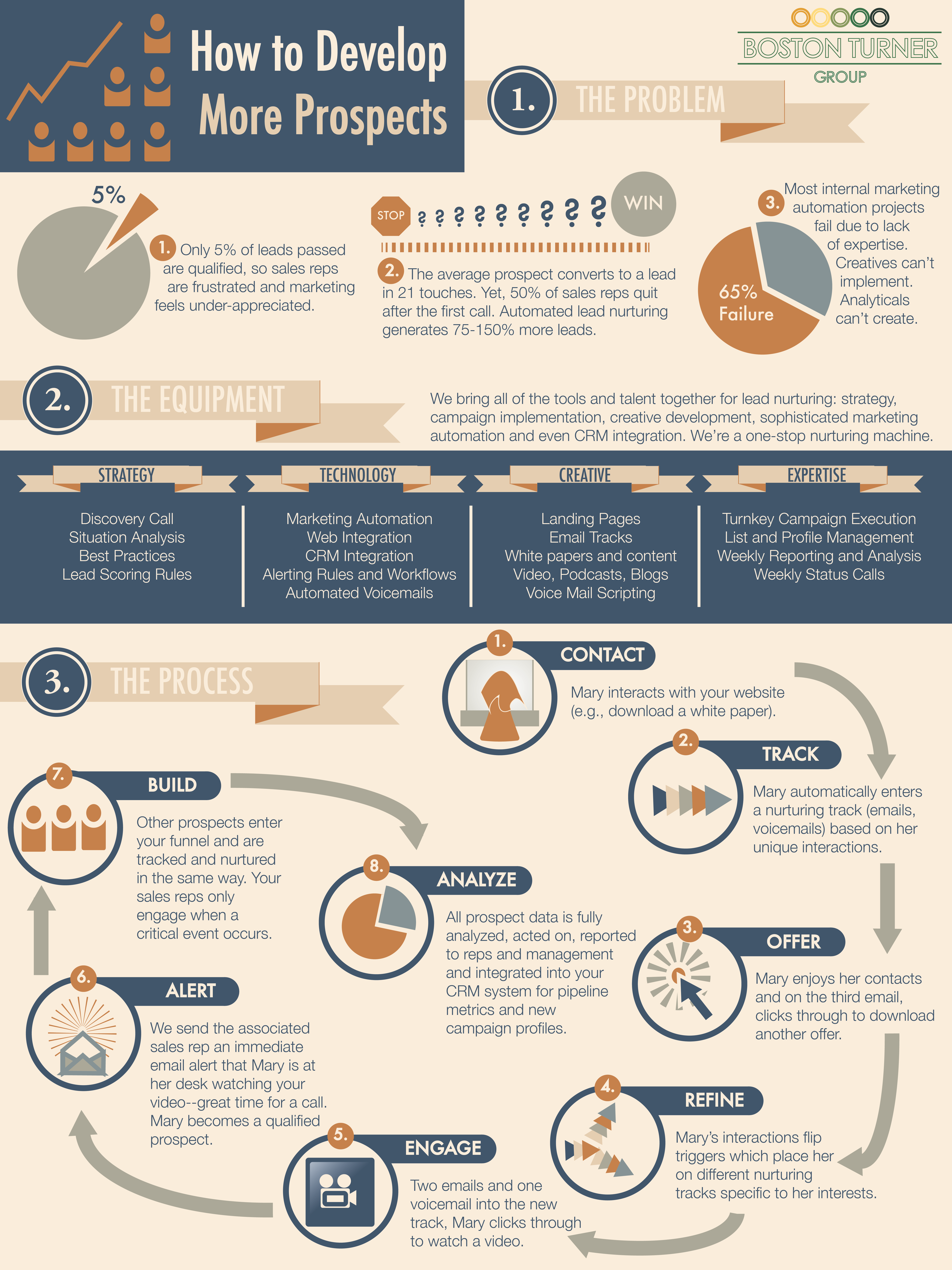 You've seen me mention our 8-step process for developing more prospects while increasing sales productivity–this is kind of a "cheat sheet" we use at the Boston Turner Group to explain all of the key elements of a marketing automation process to our clients. It helps us make sure we've covered all the bases in a leak-proof pipeline building process.
This infographic shows how we combine strategy, technology, creative and experience to engage your prospects and alert your reps with predetermined buying signals and behavioral triggers.
You can download the infographic at:
http://bostonturnergroup.com/nurturama-poster/
Now the cheat sheet is just that — it's a high level document, not a detailed how-to manual. (That's what you need Nurturama for, after all.) But we'll be talking about some of the points on the map in more depth in our live webinar on July 25 and again on July 26, 2012 at 2PM Eastern.
If you can join us, we will be talking about:
What best-in-class technology companies are doing to help understand their customers, the buying cycle, the needs, desires, wants, behavior, etc.
How to streamline complex sales cycles by educating your prospects
The best way to fill your pipeline in the second half of 2012 and start 2013 off on the right foot
What today's social media generation expects from you in your sales and marketing cycles
How to increase response rates and ROI on your current marketing investments
Shortening your sales cycles by 50% or more
How to add 25% more time into each sales rep's week
How to quickly identify which prospects are ready to buy and which are a waste of time
And yes, we'll be answering your questions, and we'll let you know how you can join us during our special five-company launch of Nurturama.
Nurturama Webinar: Seven Ways to Close More Deals
And don't forget to download the 8-step cheat sheet.
See you July 25 or 26, 2012 at 2PM Eastern
Related posts: